"He who works with his hands is a labourer. He who works with his hands and his head is a craftsman. He who works with his hands, his head and his heart is an artist." Saint Francis of Assisi
Welcome and thank you for dipping into my site!
Qualifications - Art history & English - Unisa 1995.
Speech & Drama Licentuate - LTSD (Cum laude) - 2009.
I am based on the beautiful KwaZulu Natal South Coast and have been involved in a cross section of the Arts – and especially theater & singing - from the age of twelve-ish. Perhaps a bit earlier if you count leaping out from behind the couch and doing some wayward ballet moves for my surprised & beloved parents... elaborate moves taught to me by my older sister who was determined that she was the teacher and I the pupil.

I studied English and History of Art and have recently received my Speech & Drama Licentiate (Cum laude).
I love telling stories - I love listening to a story well told - we all do I think. Storytelling is as old as mankind - Herman Charles Bosman's stories and Shakespeare's stories are among my most favourites - both literary genii as relevant today as they were when they were written.
My passion for theater has taken me on a multitude of paths - and these are some of them that I am presently involved in:
* 1 & 2 man shows - across towns/dorps and festivals countrywide. (Please see "Upcoming shows & auditions" page).
* Children's theater.
* Workshops - from 2 hour sessions - to a full day in: public speaking, poetry, improvisation, body language, public reading, mime & movement and voice production. Excellent for any person or group wanting to improve on communication (sales, teaching etc).

* Singing / soiree's.
* Please contact me directly regarding bookings of any of my shows and/or workshops for your theater, supper theater venue, school or function. Shows can be tailored for specific audiences, shortened or lengthened and constructed so as to include an interval or not.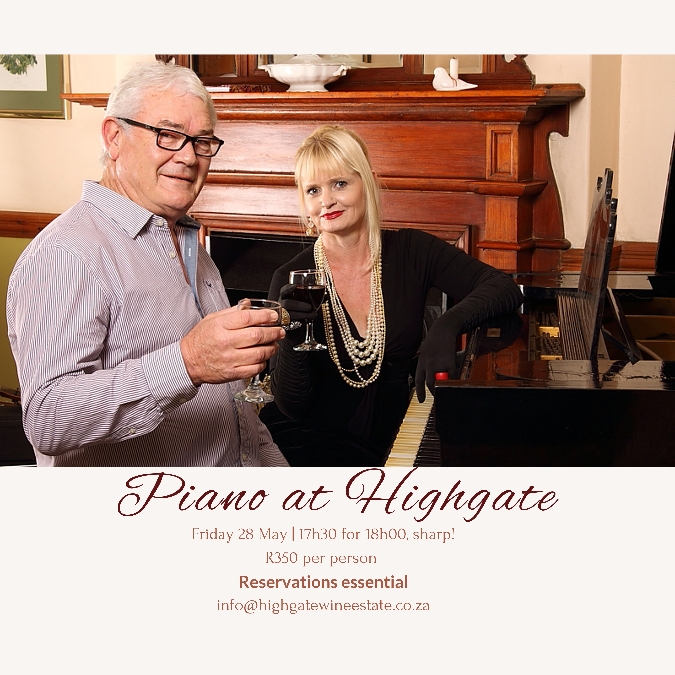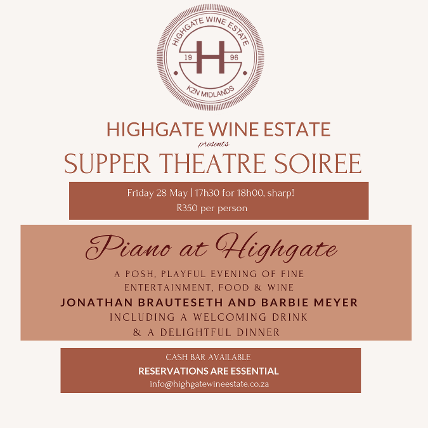 'Piano @ Highgate'
Jonathan Brauteseth & Barbie Meyer in concert in the Midlands.

Friday 28th May 2021
6 for 6.30p.m.
R350 p.p. includes Show, Welcoming drink & Delightful dinner
(Cash bar available)
Book: info@highgatewineestate.co.za
(Reservations essential as space is limited)

This May, the beautiful Highgate Wine Estate in Lions River, is delighted to present 'Piano at Highgate'. This is a soirée-supper-theater type evening. Posh, passionate and playful is how this show is described!

For this elegant evening, Barbie Meyer, teams up with her partner in piano-crime, Jonathan Brauteseth. Together, Barbie & Jonathan have become something of an institution in the music and performance industry around the country. They have been performing together for many years in intimate venues countrywide and form a formidable and quirky pair.
Totally at ease with each other other's quirks they pair up to offer both haunting and playful duets. This is interspersed with hilarious bits of information about the ridiculousness of humanity seen through their eyes, each other and the lyrics they perform.
Barbie is and actress and admits that her first love is singing. This is immediately evident in the power and passion with which she delivers their perfectly chosen songs. Her voice together with Jonathan's deep, gravelly tones has been described as 'pouring double thick cream over rather roughly chopped mango'.

Effervescent Barbie promises us that she will throw in a little of her favourite poetry - "I do this in a somewhat futile endeavour to balance Jonathan's insistence at reciting ridiculous limericks and 'I'm a Gnu' outbursts between songs… he does this solely to terrorise me", she laughs. "We like to think that our show is refreshingly unpretentious yet glamorous enough to haul out your faux fur and pearls for", Barbie says.
So don a pair of posh heels, slip on a crisp shirt and don't miss out on an intimate evening of musical entertainment with delightful and thoughtfully produced food.

Highgate Wine Estate is owned and managed by the Kassier family. The farm boats a five-hectare vineyard producing ten certified wines, including the first Chardonnay to be certified within the Kwa-Zulu Natal region. This prestigious wine estate sits comfortably alongside their other well-known and loved landmark, Piggly Wiggly. Both of these places have become meeting and shopping destinations for patrons from all over the world.

Review from "Piano @ Leonardo" – Pretoria by Shannon Taylor.

"…Barbie Meyer and Jonathan Brauteseth gave a performance of epic proportions, performing heart wrenching duets while simultaneously providing stand-up comedy throughout. These two are an act not to be overlooked; their powerful voices are utterly captivating, totally enchanting, they hold the audience completely in their grasp. It has been a long time since I have seen a pair more connected with their audience and singing from the very depth of the soul."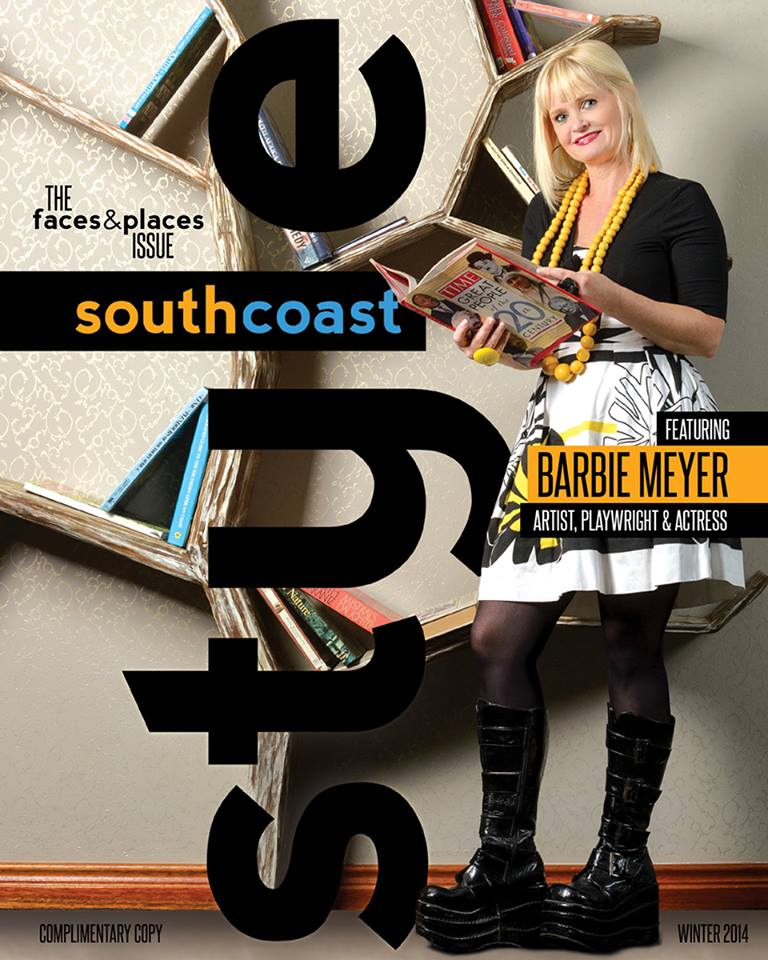 Cover of latest South Coast Style & Southern Explorer Magazine 2014